"For True Work is Love Made Visible" – Kahil Gibran by Phyllis Davis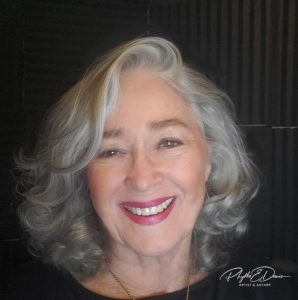 After 52 years as a full-time entrepreneur, actress and creative artist, this Fredrich Nietzsche quote has always held a profound truth for me, "We have art so that we might not die of reality."
I am in the entertainment industry. I am a Voice Over Artist for television commercials and e-learning platforms. My wonderful husband, Colle Davis, has built me a wonderful soundproof booth in our big rambling house, and I record my work there.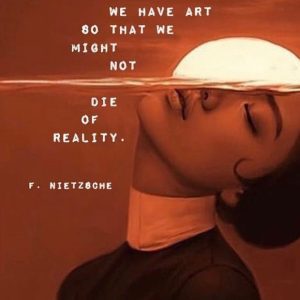 Over the years, I have become torn about Nietzsche's quote. Now, I practice a much deeper level of presence in life. I acknowledge and study the current dystopia, the racial injustice, the gender bias against women and LGBT, the deep corruption in the government and legal system, and abortion rights. I practice intensive journaling. I write about my rage and inability to make a difference in our troubled world. Yes, I vote. I write letters to my State Representatives, and when appropriate, I offer platitudes and comfort to those in need. But now, if I let it, the complex reality of today's world can swallow my peace of mind in one gulp.
Yesterday at lunch with Colle, two volunteers raising money for teen suicide stood outside on the cold spring day near the doorway. I acknowledged them on our way indoors. During lunch, I decided to speak with them on our way out. One man, an enormous black man – a gentle giant with a massive smile, and a petite white woman in pearls in her late 40s welcomed me. They explained their work with a non-profit to raise money to counsel families to prevent teen suicides, drugs, and gun violence. I donated a few dollars and accepted their small gift and a receipt. I thought, "What can I do to make a difference?" Then, I volunteered to record some of their outreach commercials, blurbs on their websites, or fundraising videos. They thanked me, and we exchanged information.
Colle helped me into the car, and I was quiet as we left the parking lot and pulled into heavy traffic. I recalled being a troubled teen in my wealthy and advantaged high school. I disappeared. No groups reached out to kids like me in the late 1960's. Instead, weeks after graduation, I left home, alone, and moved to seek fame as an actress and model in Chicago to build my portfolio and credits, and then I moved to Los Angeles in 1969.
I was one of the lucky ones. I found training, good agents, and a community that understood troubled teens. I'm in the minority of troubled teens who became self-made from frayed cloth through the love and understanding of WORK.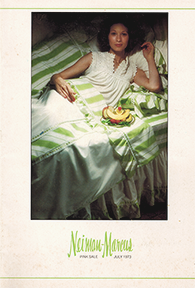 Phyllis' Neiman-Marcus Catalog Cover July 1973. In July, it will be 50 years ago.
I recall posting a small, typed note on the front page of my 30-pound portfolio that I toted with me wherever I went for the next 20 years (I weighed one hundred pounds, 5'9″ tall). It was a quote by the Lebanese poet, Kahlil Gibran, in The Prophet, "For true work is love made visible." That quote was my message to myself, "Work, dedication, and discipline will heal my broken places." I was half right. I was cast in 120 national television commercials before I was even 21, but the pain did not go away.
Now 73, I have continued the path I set for myself at 18, and I still WORK. The pain has diminished to a reasonable size that does not consume me. Being married for almost three decades to Colle Davis, a talented and brilliant Executive Coach for more than 40 years, he has healed my broken places.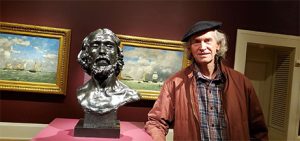 Colle Davis posing with Rodin's John the Baptist a few weeks ago.
Colle and I are a Dream Team. We have built five companies together and authored and published nine successful books. We have also written two patent applications and a few grants. We have also built a wonderful life with our three Cavalier King Charles Spaniels on a few acres with 120′ tall trees of pine and oak. We have friends we love, and who love us. Our true work together has, in fact, made love visible.
Thank you, Colle Davis. I am forever grateful for your love and kindness for me, others, and for us.
What is your 'true work?' For more tips and tricks for making your true work become visible, contact me, Colle Davis, cdavis@mycoach.com or 804-467-1536 (EST), or set up a complimentary meeting via Zoom.